The Ghana Navy on Friday, 1 July 2022 launched its Integrated Management System (Paperless System), to digitalize the administrative functions within the Ghana Navy, decentralize access to routine orders and enhance the receipt, transmission and dissemination of information amongst personnel and commands.
The event which took place at the Naval Headquarters was part of the Chief of the Naval Staff's (CNS) vision to reduce the over reliance on paper/manual practices with a foremost aim at reducing the cost associated with running paper based offices and embracing modern technological practices which permits remote access.
The paperless system features a number of modules chiefly headlined by a collaborative work platform, data sharing platform, an e-library, routine orders dashboard, records and access control, inventory and ledger management, upcoming training/events platform amongst others.
The Guest of Honour, Vice Admiral Seth Amoama, who is also the Chief of the Defence Staff (CDS), in his remarks commended the relentless effort of the CNS, Rear Admiral Issah Adam Yakubu, the software development team, led by Captain Davison Mensah-Kabu and key personnel at the Naval Headquarters in attaining such commendable feat.
He indicated that the Integrated Management System would enhance productivity due to its remote access feature, permitting out of office work, effective office administration and expedite internal procurement processes. He further stated that technology has evolved over the years and it was just about time the entire Ghana Armed Forces leveraged on such advancement to globally position itself and modernize its administrative processes. In his concluding remarks, he urged all Arms of Service to effusively embrace the development and use of such systems to enable seamless data harmonization and inter-connectivity of existing systems.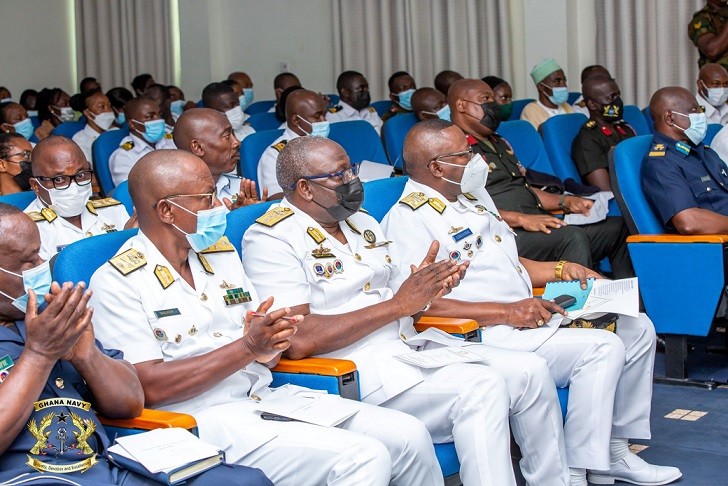 The development team lead from the Directorate of Information Technology (DIT), Captain Davison Mensah-Kabu, demonstrated and took personnel through key aspects of the Integrated Management System, navigating various pages, feature items and the redesigned Ghana Navy Website accessible via url http://navy.mil.gh/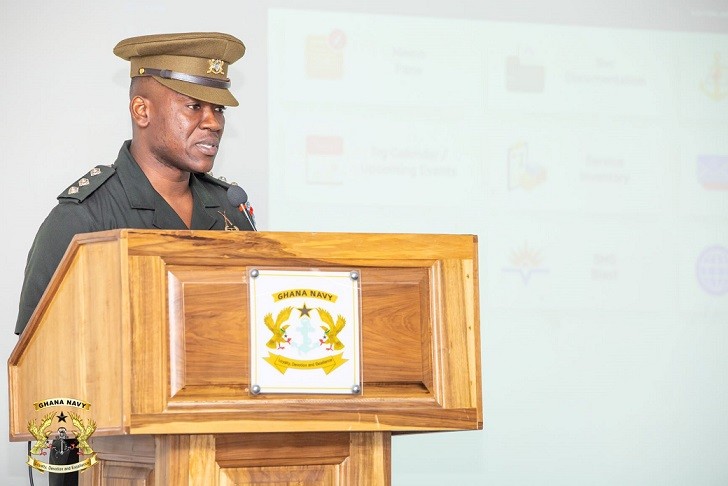 Present at the launch were very Senior Officers from all Arms of Service including the Deputy Chief of Staff (DCOS), Administration – Air Vice Marshal M Appiah-Agyekum, Flag Officers Commanding the Ghana Navy, Base Commander, AFB Accra – Air Cdre JL Mensah-Larkai, Chief Staff Officer, Airforce Headquarters – Air Cdre JA Ashrifie, Ag. Director-General, Defense Communication & Information Systems – Col AK Oduah, Director-Military Records – Col J Vander-Pallen, Director-Information Technology – Lt Col E Seppey amongst other Staff Officers from various Departments, Directorates and Units.