The maiden Chief Petty Officers Leadership Course (CPOLC) 01/ 2023 ended successfully at the Leadership Training School at the Naval Base, Tema on Thursday 21 September 2023. The Course was scheduled from 25 August to 22 September 2023.
The CPOLC aimed at providing a cutting edge leadership, management and administrative training to Senior Rates of the Ghana Navy of the rank of Chief Petty Officer Class One.
The Guest of Honour for the closing ceremony, Flag Officer Commanding Eastern Naval Command, Commodore Maxwell Arhen indicated that the course was intended to equip Chief Petty Officers with the requisite leadership skills and knowledge to enable them function effectively in their current and future roles.
He noted that the course was designed to train participants for efficient leadership in management and administration. According to him, the Navy thrives on training, with a focus on churning out well-trained personnel who are capable of maintaining and managing Ghana Navy platforms as well as its human resource.
Commodore Arhen emphasized on the need for Senior Rates to orient themselves with trainings that would sharpen their leadership and management skills especially Coxswains and Heads of Departments. He said that CPOLC was instituted as there was no course for Senior Rates after Senior Rates Administrative Course.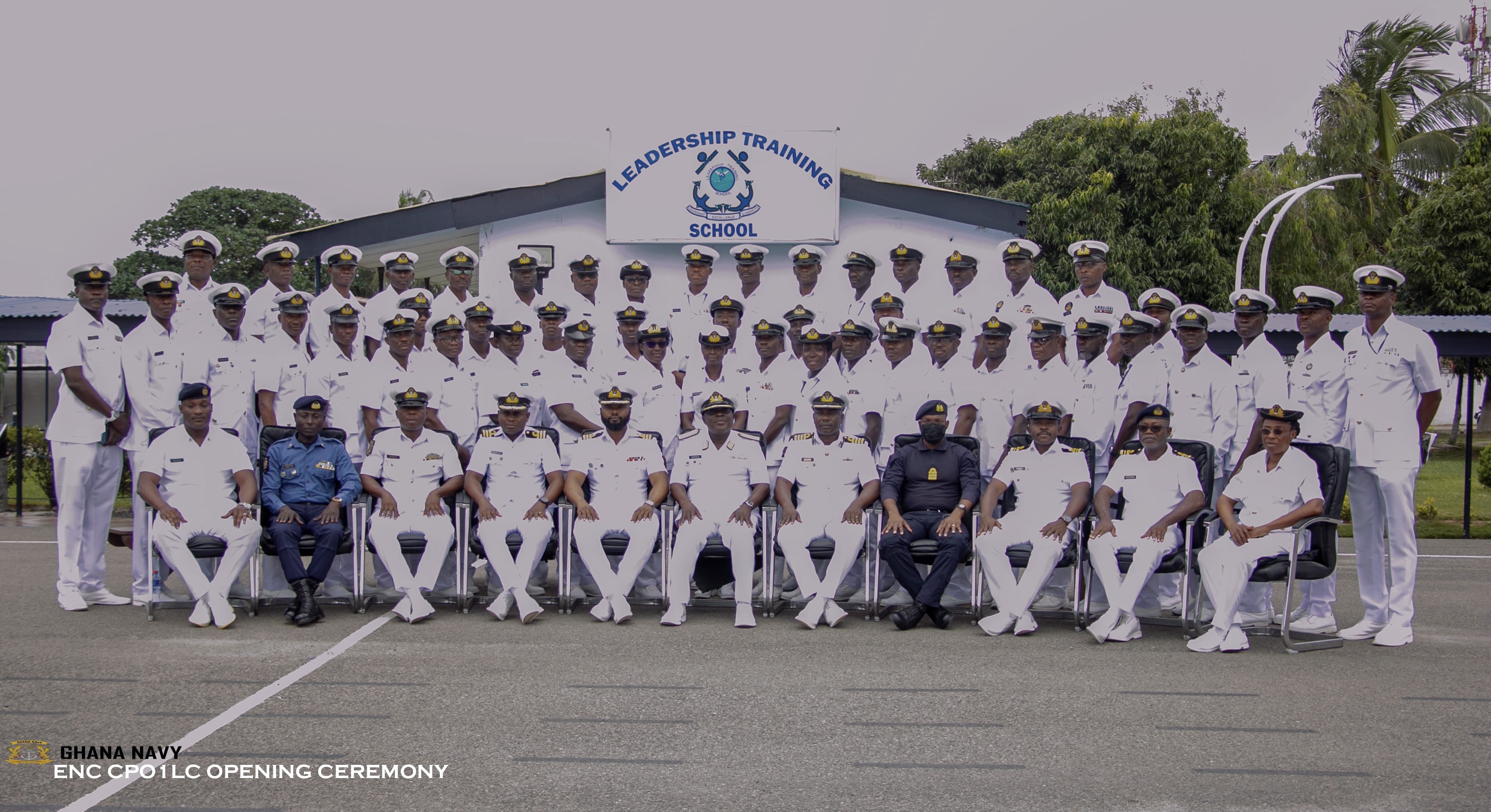 He also made it known that the course had been carefully structured to expose participants to various developments and issues that are critical to leadership in the Armed Forces, particularly, the Navy.
The course was a month course conducted in two (2) phases.
Phase one was the Executive Leadership in Management Course facilitated by lecturers from the University of Ghana Business School.
Phase two further exposed students to leadership concepts in the Military as well as other relevant knowledge.
Participants expressed their utmost joy and appreciation to High Command for the opportunity.
Commodore Arhen commended the efforts and support of the Chief of the Naval Staff, Rear Admiral Issah Adam Yakubu for committing resources into the realization of the course, the Flag Officer Commanding Naval Training Command Commodore Bright Emmanuel Kojo Atiayao and the management of University of Ghana Business School.